Zausmer shareholder Cinnamon A Plonka is a seasoned litigator, respected member of the bar, and community activist.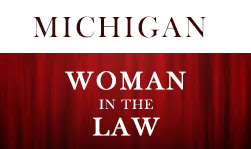 Because of her wide-ranging dedication and professionalism, Michigan Lawyers Weekly named Cinnamon to its 2017 class of "Women in the Law," an award that honors female lawyers with a commitment to excellence in the practice of law who are inspiring and accomplished leaders in the profession.
Cinnamon has tallied an impressive string of jury trial wins, and continues her streak as she manages several lawyers, paralegals, and professional staff in one of the firm's largest practice areas. Her career as a litigator began at Cooley Law School where she developed a penchant for advocacy. She then honed her skills at Citizens Insurance Company, successfully defending a variety of construction, premises liability, maritime, and auto negligence cases, first as an in-house trial attorney and later as supervising counsel for the company's Southfield office. She joined Zausmer in 2010.
Our firm has benefitted tremendously from Cinnamon's presence. Her rise from associate to shareholder has been extraordinary, and her business development talents are responsible for a substantial portion of our growth. In addition to a regular claims docket, she handles large-exposure catastrophic losses, special investigative fraud work, personal injury protection, bodily injury, and fire, property, and casualty claims. As a shareholder, she mentors new attorneys and participates in hiring and managerial decisions.
Cinnamon also finds time to give back to the legal profession and her community. She is a board member, past president, and past treasurer of the Black Women Lawyers Association of Michigan, and an active proponent and supporter of its mentor-mentee efforts and a pro bono program that partners with domestic violence shelters to assist women with legal issues. Cinnamon is also a hearing panelist on the State Bar Attorney Discipline Board, a frequent attendee at Minority Corporate Counsel events across the country, and a mentor to teenage girls through her church. She also served as a member of the host committee for the 2016 Women's Leadership Breakfast for City Year Detroit.
Congratulations to Cinnamon on this well-deserved honor!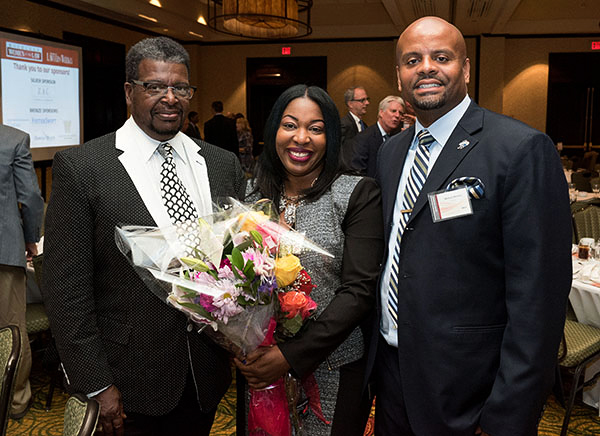 Michigan Lawyers Weekly honored its 2017 class of Women in the Law at a special luncheon at the Troy Marriott. Pictured with Cinnamon above are her father, William Rice, Sr., and Michael Brown.