Managing Shareholder Mark Zausmer was recently named to Michigan Lawyer's Weekly's inaugural Hall of Fame, which recognized 20 Michigan legal leaders over the age of 60 for their notable successes and demonstration of strong leadership both within and outside of their chosen field.

Winners were honored during an awards luncheon ceremony on May 30, 2019, and were profiled in Michigan Lawyers Weekly's June 3, 2019 issue.
Mark most notably achieved success resolving a number of prominent eminent domain cases, including arguments in two cases before the Michigan Supreme Court that established new precedent for the acquisition of private property for public purposes. He has also had great success navigating financially troubled businesses through liquidation, rehabilitation, and receivership. He has been appointed as Receiver and Conservator to troubled businesses by the Governor, the Insurance Commissioner, the Attorney General, and the Cemetery Commissioner. He also had a leading role in operating several struggling companies in which the State exercised its regulatory authority.
Mark has also made a substantial impact in the region's economic growth, and his love for the City of Detroit and its rich culture is evident.  As counsel for the City in the development of the Fox Theater District and the Cobo Hall expansion projects, Mark played a key role in the revitalization of downtown Detroit.  He has represented the City of Detroit, Wayne County, and the Michigan Department of Transportation on many other significant matters, including the Chrysler Jefferson Assembly Plant, Detroit City Airport, Tiger Stadium, and Veterans Administration Hospital projects.  Most recently, Mark led a team of lawyers from the firm that defeated high-stakes challenges to the Gordie Howe International Bridge project.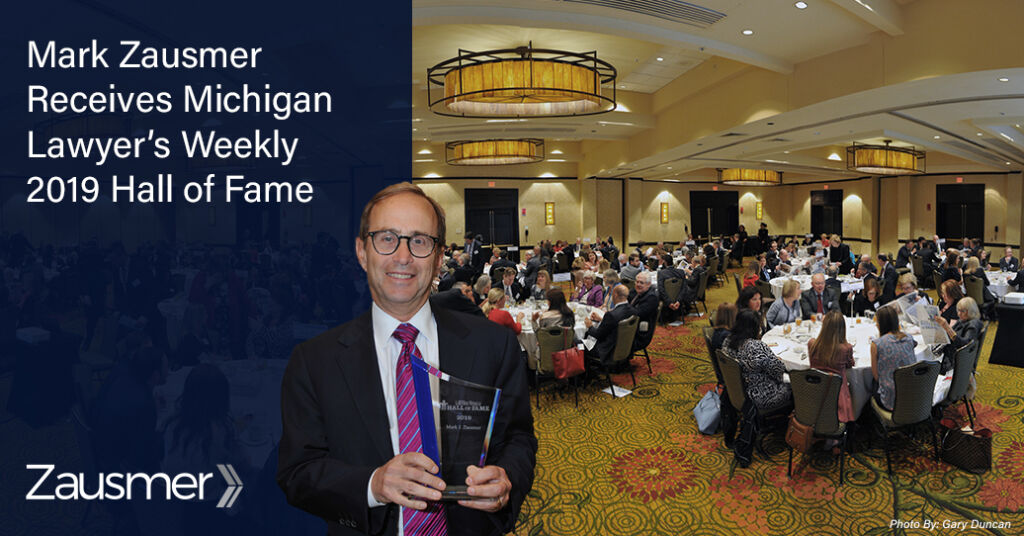 Photo: Gary Duncan
Despite his many victories and accomplishments, Mark is most proud of the law firm he has built. As a testament of his hard work and dedication, Mark has turned Zausmer, P.C. into one of the fastest growing and most respectable litigation firms in Michigan. By assembling a team of talented and highly credentialed attorneys and fostering a culture of hard work, innovative thinking, and entrepreneurism, Zausmer, P.C. has become the go-to firm for companies, municipalities, and individuals in need of first-class legal representation.  Mark stands out for the business and personal relationships that he and his colleagues have cultivated with their clients and the deep trust that those clients place in the firm.
Congratulations, Mark, on a well-deserved honor as an inductee of the 2019 Hall of Fame Class!