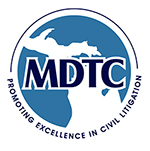 The free webinar takes place on Tuesday, February 9, 2021 from noon to 1:30 p.m. and will include Judge Elizabeth Gleicher of the Michigan Court of Appeals.  The panel will address issues such as creating a good record in the trial court, properly preserving issues for appeal, the importance of motions in limine, approaching jury instructions and verdict forms, and other issues.
The MDTC was established to enhance and promote the Defense Bar. It exists to facilitate a greater exchange of views and advance the interests of civil defense attorneys. As an association of the leading lawyers in Michigan, the MDTC is dedicated to representing individuals and corporations in civil litigation.
Nathan Scherbarth is a senior associate in Zausmer's Appellate, Business & Commercial, Employment, Insurance Defense, Insurance Coverage, and Municipal practice groups. His strong appellate background gives him an advantage when defending his clients. Combining well-written advocacy and an ability to anticipate problems, Nathan knows how to avoid potential pitfalls in any given case. He has been a member of the MDTC since 2012, and serves on their Amicus Committee, co-chairs the appellate practice section, and edits their e-newsletter.